Por Fabricio Duque
Talvez seja apenas coincidência, mas sempre que o Vertentes do Cinema prepara-se para realizar a cobertura do Festival de Berlim, filmes brasileiros são indicados. Em 2014, tivemos "
A Praia do Futuro
", de Karim Aïnouz, "
O Homem das Multidões
", de Marcelo Gomes, e premiado "
Hoje Eu Quero Voltar Sozinho
", de Daniel Ribeiro. Em 2015, "
Que Horas Ela Volta?
", de Anna Muylaert, que foi premiado na categoria Panorama, e que também conta com o novo longa-metragem "Mãe Só Há Uma" na edição 2016. Nosso site produzirá as críticas em tempo real (com algumas horas de diferença). No 66o ano, o Brasil ainda os longas de ficções "mostrará sua cara" com "Antes o Tempo Não Acabava", de Sérgio Andrade e Fábio Aldo; e "Curumim", de Marcos Prado, na categoria de Documentário. No Forum Expanded, os curtas-metragens "Muito Romântico", de Melissa Dullius e Gustavo Jahn; e "Ruína", de Gabraz Sanna, este que precisa ser conferido, porque seu diretor realiza obras hipnóticas, psicodélicas, plasmáticas, com sua estética característica de underground intimista, livre, poética, musical, futurista de ficção científica por protagonizar os ruídos, que se alinham e reverberam odes musicais de contraste construção-abstrata. Ainda em 2015, o iraniano "
Taxi Teerã
", de Jafar Panahi, venceu o Urso de Ouro; "
O Clube
", de Pablo Larrain levou o prêmio de Urso de Prata; e "
45 Anos
" arrebatou os de Melhor Atriz e Melhor Ator. Quem levará na edição deste ano 2016?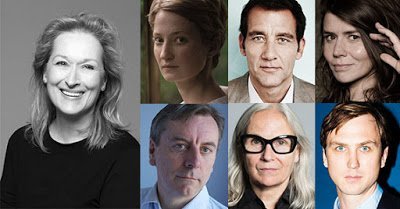 O Júri é composto pela presidente, a atriz Meryl Streep, Lars Eidinger, Nick James, Brigitte Lacombe, Clive Owen, Alba Rohrwacher, Małgorzata Szumowska, premiarão as categorias de Golden Bear for Best Film (awarded to the film's producer); Silver Bear Grand Jury Prize; Silver Bear Alfred Bauer Prize for a feature film that opens new perspectives; Silver Bear for Best Director; Silver Bear for Best Actress; Silver Bear for Best Actor; Silver Bear for Best Script; Silver Bear for Outstanding Artistic Contribution in the categories camera, editing, music, score, costume or set design.
Competição
24 Wochen (24 Weeks)
Germany
By Anne Zohra Berrached (Two Mothers)
With Julia Jentsch, Bjarne Mädel, Johanna Gastdorf, Emilia Pieske
World premiere
Chang Jiang Tu (Crosscurrent)
People's Republic of China
By Yang Chao (Passages)
With Qin Hao, Xin Zhi Lei
World premiere
Chi-Raq
USA
By Spike Lee (Malcom X, Do the Right Thing)
With Nick Cannon, Wesley Snipes, Teyonah Parris, Jennifer Hudson, Angela Bassett, John Cusack, Samuel L. Jackson
International premiere – Out of competition
Des nouvelles de la planète Mars (News from planet Mars)
France / Belgium
By Dominik Moll (Lemming, Harry, He's Here to Help)
With François Damiens, Vincent Macaigne, Veerle Baetens, Jeanne Guittet, Tom Rivoire
World premiere – Out of competition
Inhebbek Hedi (Hedi)
Tunisia / Belgium / France
By Mohamed Ben Attia
With Majd Mastoura, Rym Ben Messaoud, Sabah Bouzouita, Hakim Boumessoudi, Omnia Ben Ghali
World premiere – First feature
Mahana (The Patriarch)
New Zealand
By Lee Tamahori (The Devil's Double, Die Another Day, Once Were Warriors)
With Temuera Morrison, Akuhata Keefe, Nancy Brunning, Jim Moriarty, Regan Taylor, Maria Walker
World premiere – Out of competition
Saint Amour
France / Belgium
By Benoît Delépine, Gustave Kervern (Mammuth, Le grand soir)
With Gérard Depardieu, Benoît Poelvoorde, Vincent Lacoste, Céline Sallette
World premiere – Out of competition
Soy Nero
Germany / France / Mexico
By Rafi Pitts (The Hunter, It's Winter)
With Johnny Ortiz, Rory Cochrane, Aml Ameen, Darell Britt-Gibson, Michael Harney
World premiere
Alone in Berlin by Vincent Perez (Germany / France / United Kingdom)
Boris sans Béatrice (Boris without Béatrice) by Denis Côté (Canada)
Cartas da guerra (Letters from War) by Ivo M. Ferreira (Portugal)
Ejhdeha Vared Mishavad! (A Dragon Arrives!) by Mani Haghighi (Iran)
Fuocoammare (Fire at Sea) by Gianfranco Rosi (Italy / France) – documentary
Genius by Michael Grandage (United Kingdom / USA) – First feature
Hail, Caesar! by Joel and Ethan Coen (USA / United Kingdom) – Out of competition
Hele Sa Hiwagang Hapis (A Lullaby to the Sorrowful Mystery) by Lav Diaz (Philippines / Singapore)
Kollektivet (The Commune) by Thomas Vinterberg (Denmark / Sweden / Netherlands)
L'avenir (Things to Come) by Mia Hansen-Løve (France / Germany)
Midnight Special by Jeff Nichols (USA)
Quand on a 17 ans (Being 17) by André Téchiné (France)
Smrt u Sarajevu / Mort à Sarajevo (Death in Sarajevo) by Danis Tanović (France / Bosnia and Herzegovina)
Zero Days by Alex Gibney (USA) – documentary
Zjednoczone Stany Miłosci (United States of Love) by Tomasz Wasilewski (Poland / Sweden)
Panorama
Antes o tempo não acabava (Time Was Endless) – Brazil / Germany
By Sérgio Andrade, Fábio Baldo
With Anderson Tikuna, Rita Carelli, Begê Muniz, Emanuel Aragão
World premiere
Auf Einmal (All of a Sudden) – Germany / Netherlands / France
By Aslı Özge
With Sebastian Hülk, Julia Jentsch, Hanns Zischler, Sascha Alexander Gerşak
World premiere
Aquí no ha pasado nada (Much Ado about Nothing) – Chile / USA / France
By Alejandro Fernández Almendras
With Agustín Silva, Paulina García, Alejandro Goic, Luis Gnecco, Daniel Alcaíno
European premiere
Jug-yeo-ju-neun Yeo-ja (The Bacchus Lady) – Republic of Korea
By E J-yong
With Youn Yuh-jung, Chon Moo-song, Yoon Kye-sang, An A-zu, Choi Hyun-jun
World premiere
La Route d'Istanbul (Road to Istanbul) – Algeria / France / Belgium
With Rachid Bouchareb
Mit Astrid Whettnall, Pauline Burlet, Patricia Ide, Abel Jafri
World premiere
Mãe só há uma (Don't Call me Son) – Brazil
By Anna Muylaert
With Naomi Nero, Dani Nefussi, Matheus Nachtergaele, Daniel Botelho, Luciana Paes
World premiere
Nunca vas a estar solo (You'll Never Be Alone) – Chile
By Alex Anwandter
With Sergio Hernández, Andrew Bargsted, Jaime Leiva
World premiere
San Fu Tian (Dog Days) – People's Republic of China
By Jordan Schiele
With Huang Lu, Tian Mu Chen, Luo Lan Shan
World premiere
Shelley – Denmark / Sweden
By Ali Abbasi
With Ellen Dorrit Petersen, Cosmina Stratan, Peter Christoffersen
World premiere
Shepherds and Butchers – South Africa / USA / Germany
By Oliver Schmitz
With Steve Coogan, Andrea Riseborough, Garion Dowds
World premiere
Panorama Dokumente
Brüder der Nacht (Brothers of the Night) – Austria
By Patric Chiha
World premiere
Curumim – Brazil
By Marcos Prado
World premiere
Europe, She Loves – Swiss / Germany
By Jan Gassmann
World premiere
Inside the Chinese Closet – Netherlands
By Sophia Luvarà
International premiere
Kiki – Sweden / USA
By Sara Jordenö
European premiere
Strike a Pose – Netherlands
By Ester Gould, Reijer Zwaan
World premiere
The Lovers and the Despot – United Kingdom
By Rob Cannan, Ross Adam
European premiere
WEEKENDS – Republic of Korea
By Lee Dong-ha
World premiere
Who's Gonna Love Me Now? – Israel / United Kingdom
By Tomer Heymann, Barak Heymann
World premiere
Wu Tu (My Land) – People's Republic of China
By Fan Jian
European premiere
Zona Norte – Germany
By Monika Treut
World premiere
RELEMBRE A EDIÇÃO 2014